Contact
To reach me for answers to your questions, or to schedule an appointment, please get in touch. Please note that because I am in sessions most of the day, it may take up to one business day for me to return your call or email. I look forward to hearing from you!
Nancy Pentz, LICSW, CAC, CEAP
1875 I (Eye) Street, NW, 500
Washington, DC  20006
Phone: 202-441-0091
Fax: 202-483-0876
info@nancypentz.com
Hours:
I book appointments from 7am to 8pm, depending on the day. The suite receptionist is in the office from 9am to 5:30pm. If your appointment is before 9am or after 5:30pm, please call me upon your arrival and I will escort you to the office.
Office Location:
The building is known as International Square. Three buildings encompassing one city block share a single roof/atrium. The lower lobby houses a food court with 12 international eateries and table space. For your convenience, there are also banks, shoe and jewelry repair, a convenience store, cell phone store, and Radio Shack. You can enter at the building from 1850 K Street, 1825 I (Eye) Street, or 1875 I (Eye) Street.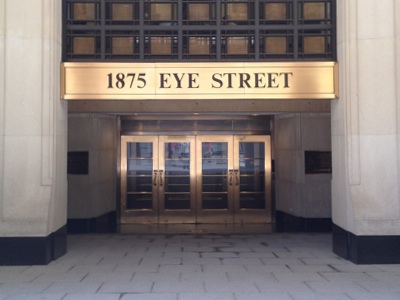 Building Security:
For the security of tenants and visitors, the building management requires every visitor to sign in with the concierge and provide identification. Your confidentiality is not violated — I accept many visitors for many reasons in my office here, and no reason for your visit is ever asked.
Metro:
The closest stations are Farragut West (Orange, Blue, and Silver Lines) and Farragut North (Red Line).
Parking:
On-street metered parking is $2.00 per hour payable by cash or credit card.
There is two-hour parking available at all hours on K Street (going both east and west on the service roads) and on Pennsylvania Avenue.
Metered two-hour parking is available on 18th Street 9:30am to 4pm and after 6:30pm (one way going north), on 19th Street 9:30am to 4pm and after 6:30pm (one way going south), and on I (Eye) Street 9:30am to 4pm and after 6:30pm (one way going west).
Other parking options are available in garages located throughout the neighborhood.